DISCOVER OUR WOODEN PUZZLE BOXES AND OUR ETHICAL AND ENIGMATIC CREATIONS
NKD Puzzle, creates, designs and markets, in the south of France, artisanal "handmade" puzzle boxes from the imagination of the enigmatic humanoid robot Neo and the mysterious magician , Julien. We pass on our passion for games and magic by offering Puzzles Boxes but also creative hobbies, puzzles , construction games and wooden cards. We share this incredible adventure with a team of 10 enthusiasts to create, design, cut, assemble each piece of the 3D puzzles manually and sell the puzzles boxes or boxes for riddles mounted or in kit. Inspired by Steampunk, fantasy, relativistic, giving the illusion of a surrealist dimension , we bring incredible creations to life surrounded by both architectural and technical mysteries. Each puzzle box is unique, illustrated by a unique universe where at first sight the impossible faces us. They require understanding lever mechanisms, cogs, combinations, solving puzzles , to activate keys in the right order, unlock locks, to open the box where unmentionables secrets may be hidden there.
Why not yours! Confusing, incredible, unimaginable, magic , fabulous, incredible, are the words that come to mind when you have, for the first time, one of our puzzle boxes in your hands. A real playful watchmaking that stimulates neurons and imagination . What is a puzzle box? A puzzle box is a game of concentration that is played with his hands and his two cerebral hemispheres, the right for creativity, experimentation, then the left for calculations, and appearance pragmatic. A real puzzle in 3 dimensions. Our Puzzle Boxes are presented: • Either already assembled, in real Sherlock Holmes, let yourself be inspired by the fantastic inventiveness of our movements to decode the opening mechanisms. • Either to assemble oneself , for the addicts of the DIY (Do It Yourself), challenge yourself to reconstruct identically, with the ingenious phlegm of Artemus Gordon, our mysterious Puzzles Boxes . < br /> Whether it is to keep your secrets inside, display them as an art object, exercise your brain, venture into an incredible DIY construction or just for fun, everyone can do it find magic and discover a form of hypnotic play. Once captivated by the magic of the mechanism , your hands and your mind surf in the flow. It's a way to let go while having fun. Only observation, understanding the mechanisms, patience, reflection, thoroughness, training and logic, will come to the end of your puzzle box.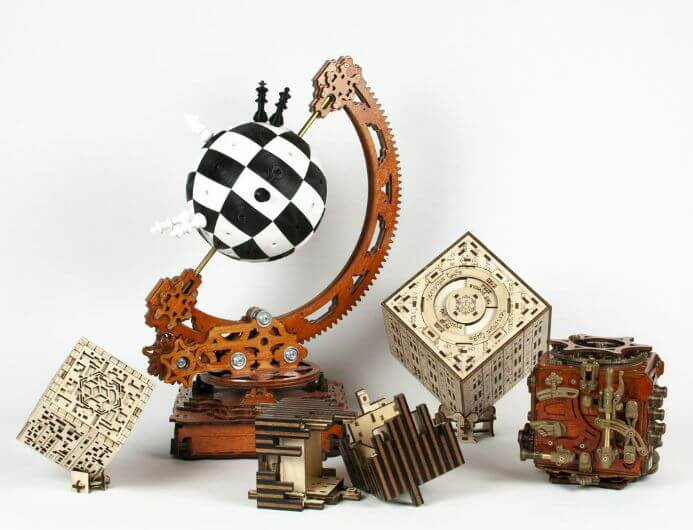 Gold medal Lépine contest 2022
Kit & Puzzle Box
Do it yourself or Assembled by us ( limited series )